Torrance, California, USA, August 29, 2023 – Holoptic is a leading developer of transparent head-up displays (HUD) based on holographic optical elements (HOE) for augmented reality (AR) and infotainment applications. There are multiple factors currently driving the demand for transparent displays. One factor is the increasing emphasis on road safety for drivers in automobiles and another is the shift from traditional displays on the dash to transparent displays on the windshield and side windows.
To meet this demand, Holoptic has developed two types of transparent displays, AR and In-Plane (IP) HUDs.
The first is an AR HUD that provides the driver a bright virtual image, with up to 20°x10° field of view (FOV), containing navigational info overlayed on the real-world view in front of the automobile to be viewed with relaxed eyes without being distracted by having to look down on the dash displays for the same info.
The second is an IP HUD that provides passengers with a large display on the windshield or side windows showing infotainment style content comparable to watching a monitor or television screen with the additional benefit of a transparent display in an automobile. These same advantages and benefits of transparent HUDs can also be implemented in flight vehicles for pilots and passengers, and scaled down for near-to-eye (NTE) smart glasses and head-mounted displays (HMD).
The technology behind AR and IP HUDs are based on HOEs recorded on a thin film of photopolymer with thickness less than 30um. The optical recording setups used to produce the HOEs require large optics and high-power lasers. The same low-cost process used to manufacture windshields and side windows can be optimized to include the HOE film between the two glass layers and meet the auto industry requirements and standards for manufacturing. With HOEs embedded between the windshield or window glass layers, a picture generating unit (PGU) is placed under the dash or overhead area of the vehicle to project content to the HOEs to provide either a virtual image at a distance from the AR HUD for the driver or a real image from the IP HUD for the driver and passengers. The PGU for AR HUD includes a laser projector and for IP HUD includes a laser or LED projector.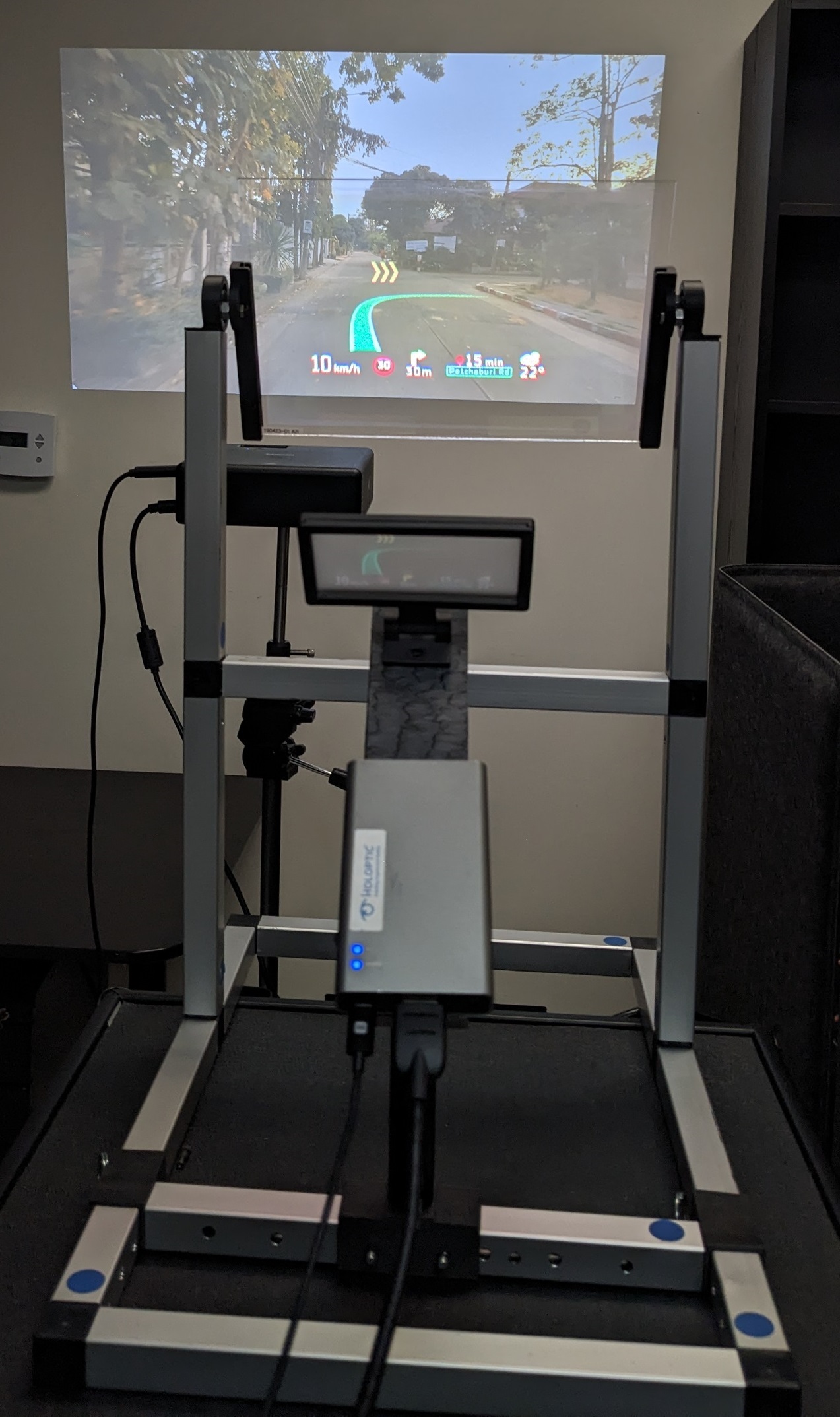 Holoptic HOE-based AR
Photo credit: Holoptic team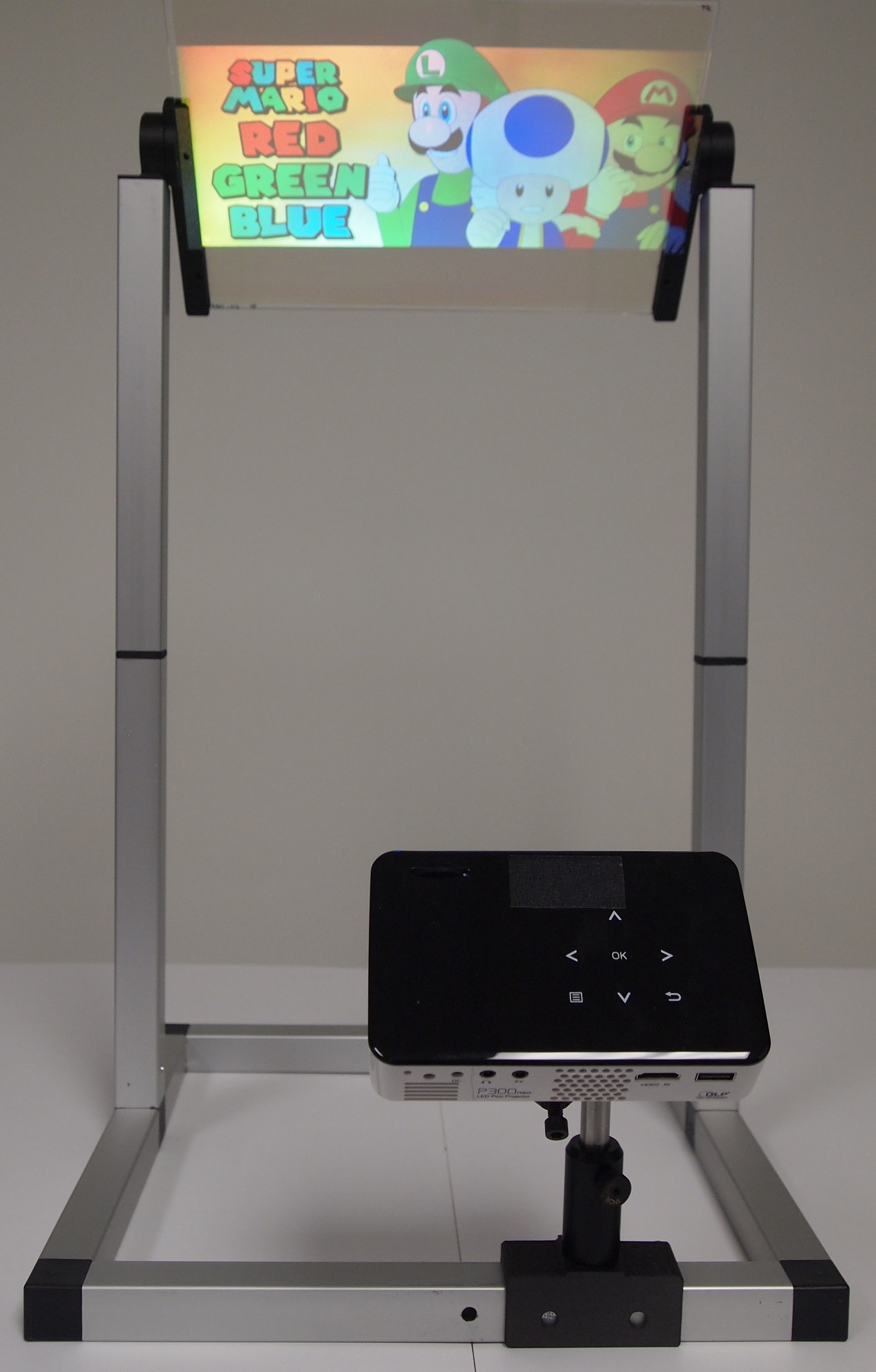 Holoptic HOE-based IP HUDs.
Photo credit: Holoptic team
Holoptic is currently working with major companies in automotive and avionics to develop next generation HOE-based AR and IP HUDs. With today's commercial auto-HUDs having small FOV, low brightness, and high-volume, there is a growing demand for auto-HUDs with a larger FOV for more content, higher brightness for viewing in bright sunlight, and lower volume requirements under the dashboard. Holoptic believes that its HOE-based AR and IP HUD technology, shown in the table-top demos below in Figure 1, can meet the demand by offering HUD with higher performance and lower cost, applicable to a wider range of vehicles.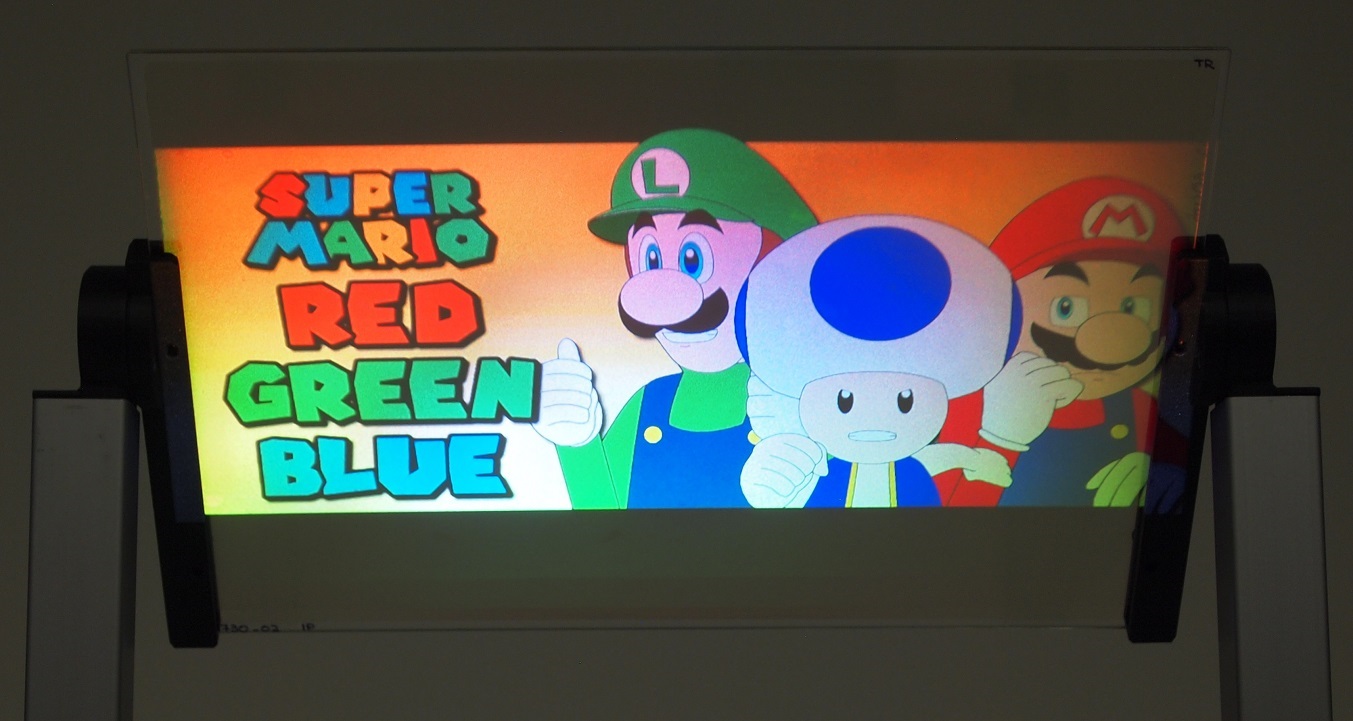 Photo credit: Holoptic team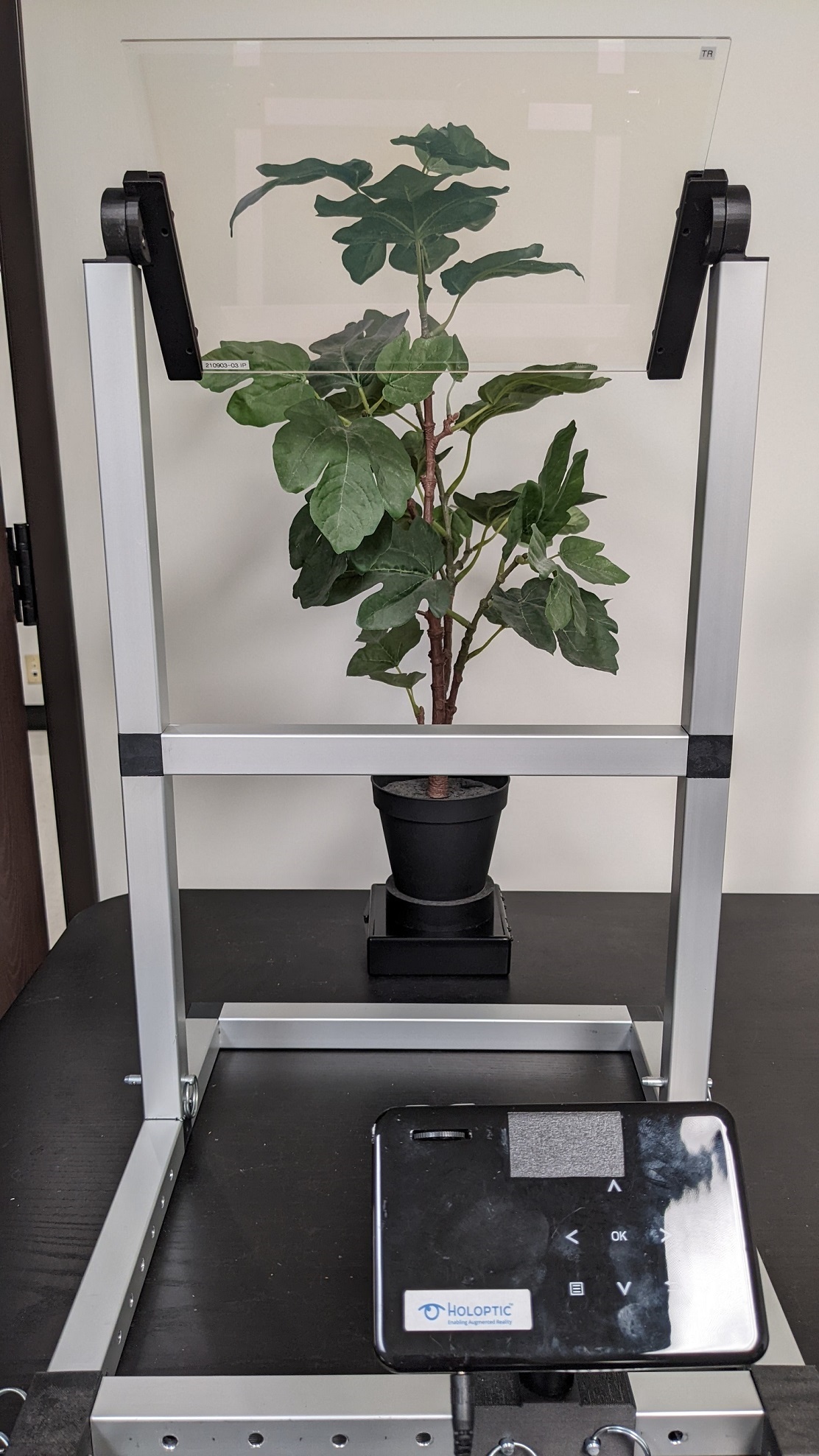 Photo credit: Holoptic team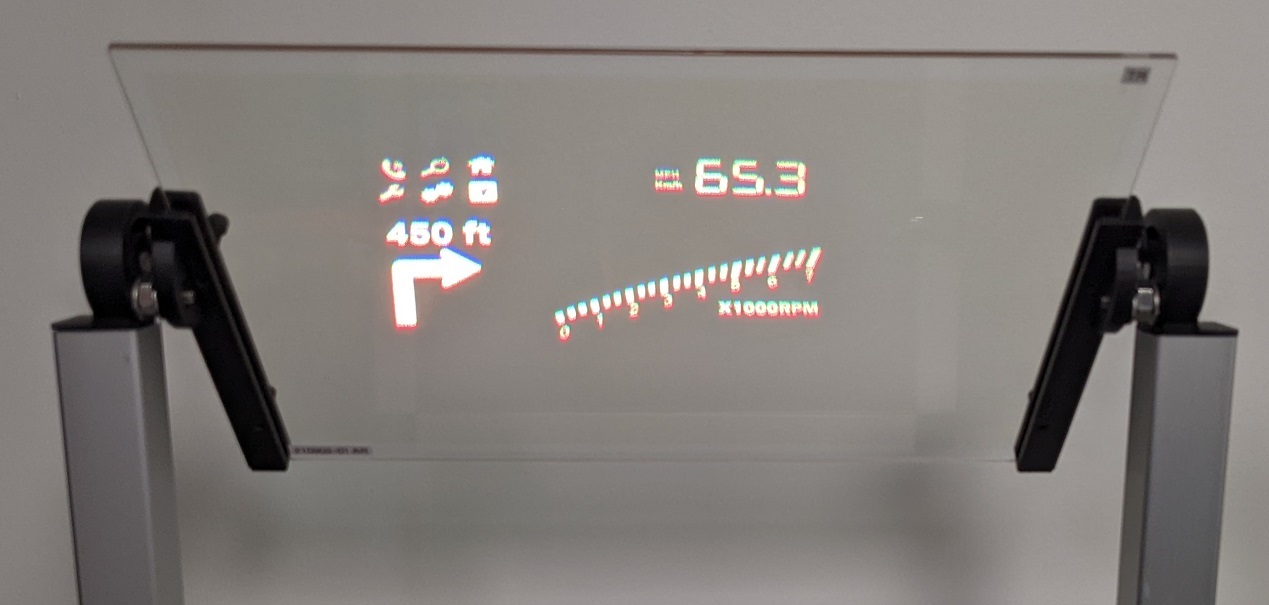 Photo credit: Holoptic team
For additional information about Holoptic AR and IP HUDs, please visit Holoptic website at
https://holoptic.com/products/head-up-displays/ or contact Miri Ben Zvi, Holoptic VP of BD at
mbenzvi@holoptic.com
About Holoptic LLC
Holoptic, spun-off from Luminit, LLC in 2019, develops the enabling components for automotive HUDs using our holographic core expertise. In 2018 Luminit brought 3-color HOEs to market for a head-mounted wearable display. Luminit developed the master recording and built a state-of-the-art roll-to-roll replication machines to mass produce thousands of our HOEs.
Holoptic intends to develop 3-color HOE for the automotive and avionic display markets by scaling our roll-to-roll platform for large area displays as the demand in this application requires brighter image, larger field of view, and reduction in HUD volume. Our transparent AR and IP HOEs allow us to reduce the volume occupied by conventional HUD by more than 3 times due to large optics being removed from under the dashboard and replaced by recorded hologram integrated in the windshield or under the dashboard. Our technology also requires much less light output from the projector. When measured with laser light, our HOEs provide high efficiency for AR and IP HUDs, allowing the user to see a high contrast image even in bright sunlight.