CUPERTINO, California—June 18, 2014—Apple® today introduced a new 21.5-inch iMac® starting at just $1,099, making the world's leading all-in-one desktop even more affordable. Featuring a stunning ultra-thin design, brilliant display, Core i5 processors and the world's most advanced operating system, the new iMac is the perfect entry-level Mac® desktop.

The new 21.5-inch iMac features a 1.4 GHz dual-core Intel Core i5 processor with Turbo Boost Speeds up to 2.7 GHz, Intel HD 5000 graphics, 8GB of memory and a 500GB hard drive. All iMac models include next generation 802.11ac Wi-Fi, and two Thunderbolt ports and four USB 3.0 ports for excellent expandability and support for high-performance peripherals.

iLife® and iWork® come free with every new Mac. iLife lets you edit your favorite videos with iMovie®, create new music or learn to play piano or guitar with GarageBand®, and organize, edit and share your best shots with iPhoto®. iWork productivity apps, Pages®, Numbers® and Keynote®, make it easy to create, edit and share stunning documents, spreadsheets and presentations. iWork for iCloud® beta lets you create your document on iPad®, edit it on your Mac and collaborate with friends, even if they're on a PC.

Every Mac comes with OS X®, the world's most advanced operating system, designed for ease of use while taking full advantage of the powerful technologies built into every Mac. Earlier this month, Apple announced OS X Yosemite, a powerful new version of OS X redesigned and refined with a fresh, modern look, powerful new apps and amazing new continuity features that make working across your Mac and iOS devices more fluid than ever. The final version of OS X Yosemite will be available for free from the Mac App Store℠ this fall.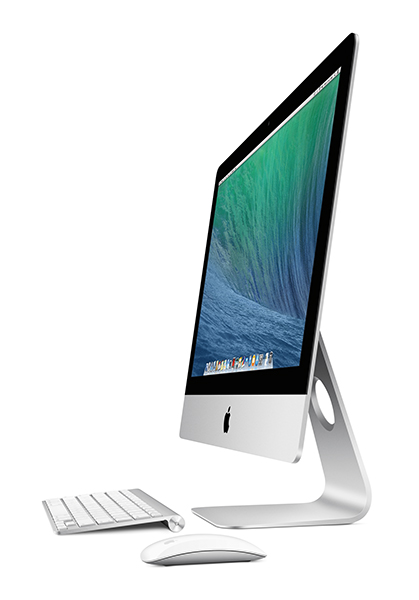 21-inch iMac

Pricing & Availability
The new 21.5-inch iMac is available today through the Apple Online Store (www.apple.com), Apple's retail stores and select Apple Authorized Resellers. Starting at $1,099 (US), the new iMac features a 1.4 GHz processor with Turbo Boost speeds up to 2.7 GHz, 8GB of memory and a 500GB hard drive. Configure-to-order options include a 1TB hard drive, a 1TB Fusion Drive, and up to 256GB flash storage. Additional technical specifications, configure-to-order options and accessories are available online at www.apple.com/imac.