Staufen, 13.05.13. Due to the continuous development of its products, OWIS® is the first supplier who developed an universal optic holder for rail based beam handling systems. The new holders UNOH 25 and UNOH 40 are designed for direct use in the proven beam handling systems SYS 25 and SYS 40. They additionally can be mounted on pins.
The new holders are capable to carry optics in different sizes. Thereby, they offer the flexibility which is needed in every optic laboratory. The UNOH 25 is suited to retain optics with diameters from 7 mm up to 16 mm, the UNOH 40 for diameters from 9 mm up to 25.4 mm.
The functionality is very simple: A small lever opens the arms and the optics can be mounted as easy as a winking. The release of the lever centres the optic and keeps it securely in the beam even under slight vibrations. The high-quality plastic arms ensure that the optics find their centre precisely and remain intact. The mechanics is designed for continuous use.
As only the optic needs to be changed, the time – which otherwise is required for a complete removal and replacement of different holders – is reduced to a minimum. This efficient way of working leads to long term cost savings. One further advantage is that generally the cheapest optic can be chosen as both – UNOH 25 and UNOH 40 – are flexible to be used for many diameters – "One for All". And all that at a convincing price performance ratio.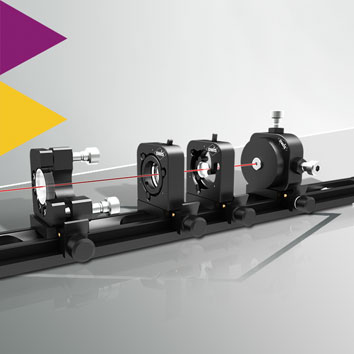 Photo: UNOH 25 in combination with the system SYS 25: one lens with minimum and one with maximum

Like all OWIS® products, also the universal optic holders are "Made in Germany" and are having the accustomed highest OWIS® quality.

For more information:
www.owis.eu